Share with friends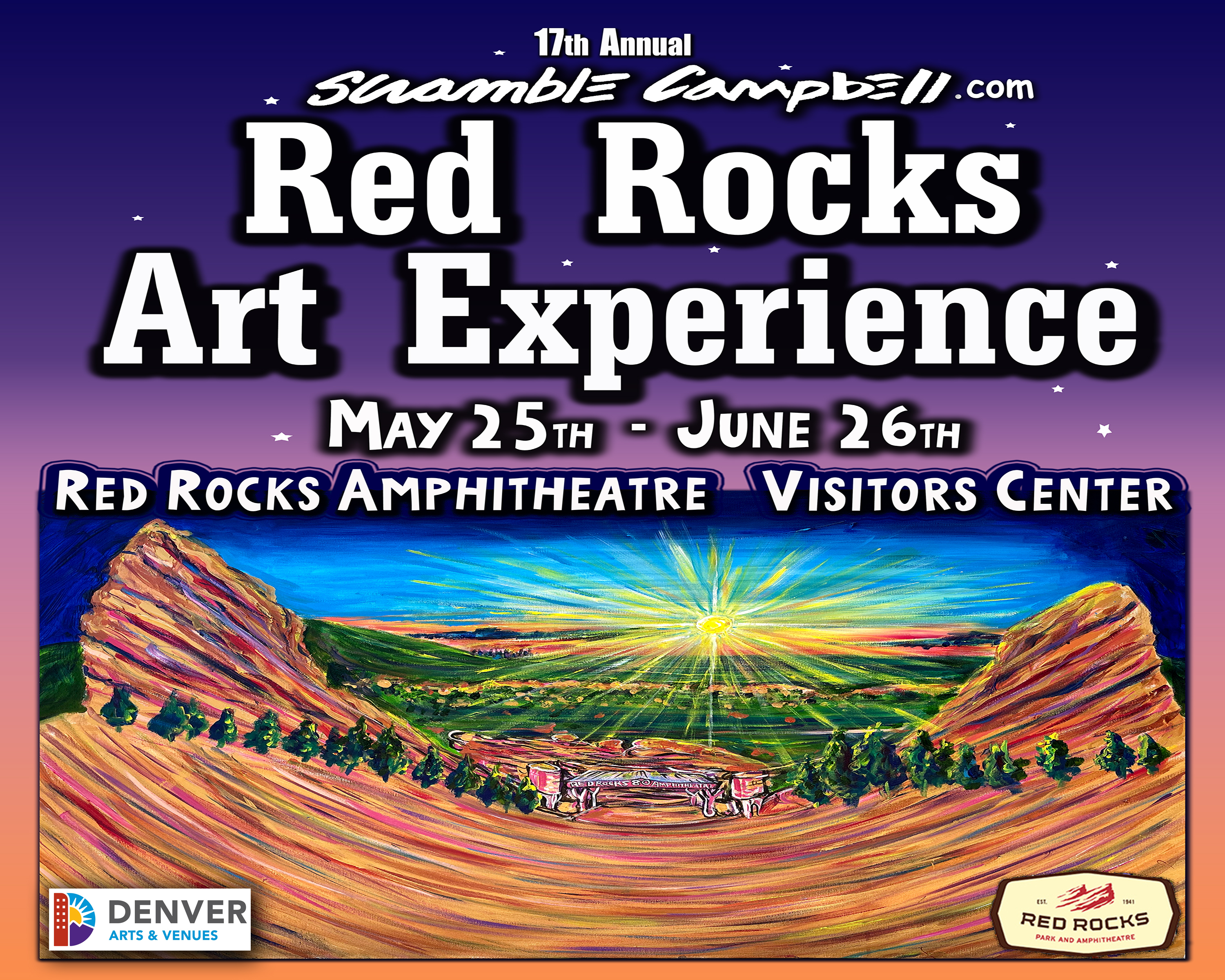 Scramble Campbell is a local Denver artist who has declared Red Rocks Amphitheatre as his ideal outdoor summer studio. He's been popping up to live-paint concerts at Colorado's most beautiful natural music venue, Red Rocks Amphitheater, for the past 22 years. He's the guy in the hat and the paint-splattered clothes, best known for his colorful portrayals of musicians and bands. When the music ends and the band exits the stage, what's left on his easel is a unique visual record of the show, stunningly captured through brushes and paint. His bold use of color, powerful compositions and highly energetic technique add to the concert experience as he creates a unique work during every show. Scramble has created over 550 original works of art, painted live at Red Rocks. His complete portfolio includes almost 3,000 pieces from nearly 1,000 musical events across the country.
Scramble's love for Red Rocks does not stop at music events and concerts. He loves hiking the trails with his wife and dog, taking photographs along the way. He also collects photos and artifacts and he enjoys comparing them to how it looks today. He has a large personal archive of Red Rocks history in his collection. He uses the memorabilia that he collects as inspiration for landscapes and paintings he collaborates on with his wife and partner of 27 years, Shay Berry Campbell. These paintings will be on display during his upcoming exhibition at the Red Rocks Amphitheatre Visitor Center.
Come see and celebrate Scramble's passion for the rich history and natural beauty of Red Rocks Amphitheatre with Scramble Campbell's 17th Annual Red Rocks Art Experience. Be sure to catch Scramble Campbell in action, painting LIVE at Red Rocks during the concerts throughout his exhibit May 25th - June 26th.
The 17th Annual Scramble Campbell Red Rocks Art Experience is located in the Red Rocks Amphitheatre Visitor Center. This exhibit is open daily and during concerts until the end of the show. You must have a concert ticket to attend the exhibit during concert hours.
Come Experience the 17th Scramble Campbell Art Experience at Red Rocks