Share with friends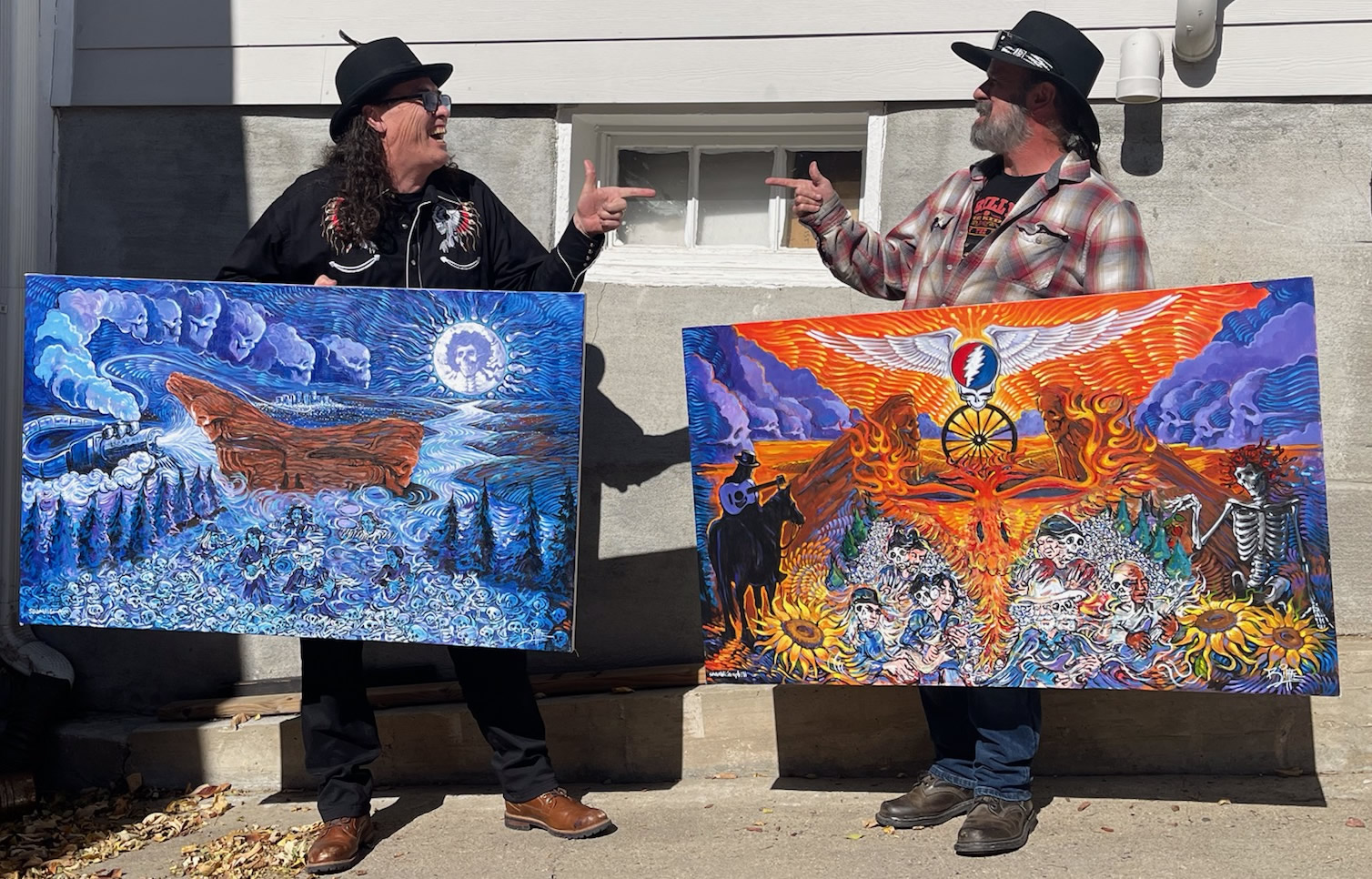 This story all started when they met on Shakedown swinging art from their VW vans in the parking lot of a Grateful Dead show in 1993! The long strange trip continues....
Scramble and Richard Biffle reunited to collaborate for 2 nights at Red Rocks for these unique studio / live combined efforts celebrating the spirit of The Grateful Dead with Dead & Company. A limited series of only 11 embellished canvas prints signed by both artists are available for each painting.
Dead & Company Red Rocks night 1 - October 19, 2021
Both Artists came together. Scramble with his own ideas and Biffle adding to it and surrounding it. They worked out their ideas on paper and then drew it onto the canvas this time. First Richard took the canvas to his studio and started his part of the painting, He added his iconic Grateful Dead imagery, symbols everyone recognizes and loves. Leaving half of the canvas blank for Scramble to paint live at Red Rocks during night one of Dead & Company. When Scramble got to his paint station at Red Rock, he unveiled it as the music started. It was a new approach for him to paint on someone else's canvas. What he did was a nice addition and compliment to Richards work. Adding the live music element to the studio painting is like creating the album cover for the concert that night.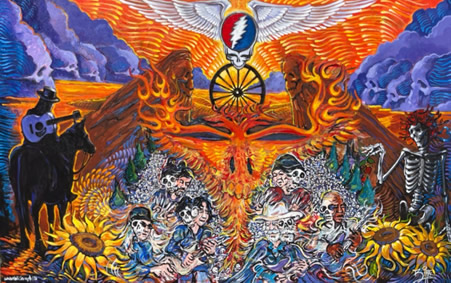 Original Sized Prints on Canvas
Dead & Company Red Rocks night 2 - October 20, 2021
Night two was going to be another hybrid like the night before. The artists met that afternoon before the show to discuss the vision for the night's piece. This one was worked out on paper and then drawn onto the canvas.
This time, Scramble would paint live at the show before he gave it to Richard to complete to complete their masterpiece in the studio.
Original Sized Canvas Prints
---
The Artists:
Richard Biffle: A prolific painter who has created prominent designs for the Grateful Dead, Carlos Santana, The Doobie Brothers, Black Crowes, Widespread Panic & many other bands on the sam Jam Band Scene.
Scramble Campbell: A live music painter who has created over 550 original paintings live during concerts at Red Rocks amphitheater. His live paintings and autograph collection includes BB King, Fats Domino, Widespread Panic and many more.
Bonnaroo.
Both had graduated from the lot and now had a booth inside the artist village at the Festival. Scramble had a plan this time. He wanted to ask Richard to paint with him later that day. So, they did. Scramble brought a 4x4 ft canvas, his easel and all of the paint onto the middle of the field to set up the En Plein Air studio before The Dead got to the stage. Richard Biffle emerged, weaving in and out of tie dyes, paint brushes in hand, he somehow had found the paint station.
There was no real plan, they had no sketch, It was just a blank canvas in a sea of Dead Heads. That is, until the music started. The band started playing & the blank canvas came to life with the energy of the show. The live music experience was seeping into the painting. So was the grit and determination of these two artist to complete this mission. As it got dark, it seemed like there were twice as many people around as they went at that giant canvas.
See if you can identify any of them.---
They painted another piece on July 6 at Red Rocks for The Dead later that same year.
It would be several years before their brushes mingle again. It was 2017, both artist were living in Colorado now.
Over the years the two artist have painted together a handful of times. So far this year, the two have painted together four times. It began with Scramble inviting Richard to paint with him this year at Billy and the Kids. They had an idea that they sketched out, that later would turn out to be a new way for them to collaborate. Scramble invited Richard to paint live at Red Rocks. It was a cold windy night and the canvas was whipping back and forth from the sharp gust. We had the easel tied down and a spotter to hold the canvas so they could paint in the crazy conditions. Richard asked what we do when it gets to be so windy and Scramble said, we paint…. So, they did.
Perseverance pays
Their next painting was sometime during August 1-9 for The Days Between.
Fast forward to the next version of this collaboration. The series is once again evolving and it appears to be a new hybrid. A live painting, studio collaboration.
---

---
Null